Pictures From the Past
-En Keith - ()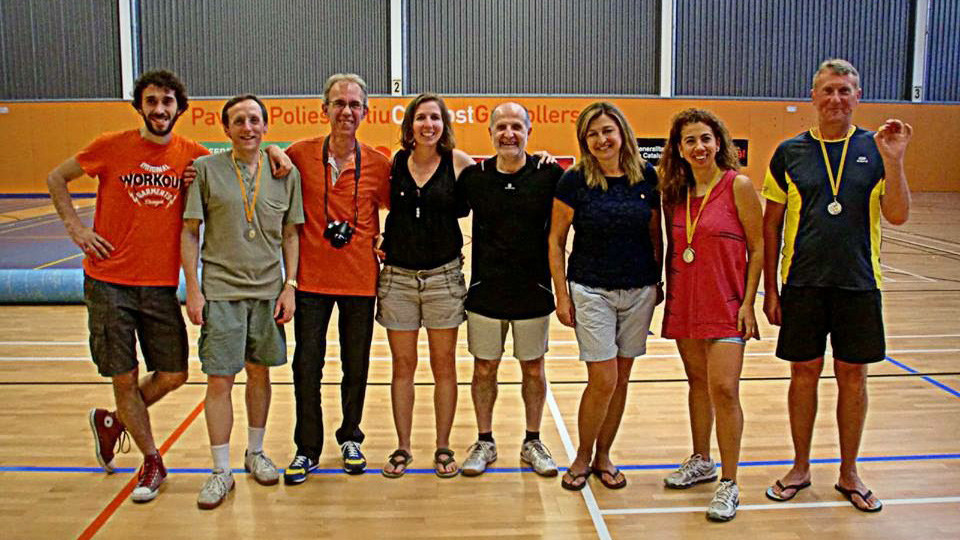 Write something in English for our international Badminton El Corredor club website, they said...... Well OK, just to make things difficult!!
The other day I found some photos taken at one of the past Veterans tournaments (Campionat de Catalunya), this one in 2014 at the Congost sports hall in Granollers. The line-up of fellow-players, from left to right is: Paulo, Keith (me), Vicenç, Nancy, Bartolomeu (Bartu), Maria, Olga, Volodymyr. As the other photos show, Badminton is exhausting - I usually end up collapsing after energetic games, even though I leave most of the hard work to my partners, in this case, Nancy and Volodymyr!!
My past in Badminton started at about 13 years old in my school in England, where one evening a week, we cleared away about 100 chairs from the assembly hall to play on a couple of badminton courts, then had to return the chairs afterwards. At University, the Badminton was organised, with my first trainer and I worked up to Team Captain of the University Badminton team (not the best player, I must admit). I just enjoyed being part of the Badminton scene and it was fun to organise the players and trips out to play against other University teams in the region. After University, I played in local clubs where I was living - Harlow B.C. - Parkleigh - Grange. We played in county leagues and did strange things, like a 24 hour badminton marathon for charity, sleeping in the sports hall, between games! When I moved to Barcelona, I thought my Badminton playing days had finished, but I hadn't counted on meeting Vicenç, who encouraged me to start again at Vilanova B.C. and the FECAB tournaments. Now a new start at Badminton El Corredor club. Viva el badminton!!